introdruction
Treating with Electronic Brachytherapy (eBx™)
Electronic Brachytherapy (eBx™) is a type of radiotherapy that utilizes a miniaturized high dose rate X-ray source to apply radiation directly to the cancerous site. The goal is to direct the radiation dose to the size and shape of the cancerous area, sparing healthy tissue and organs.
Brachytherapy has proven to be a highly successful treatment for cancers of the endometrium, breast and skin.
The Axxent
®
eBx System from Xoft is a proprietary electronic brachytherapy platform designed to deliver isotope-free (non-radioactive) radiation treatment in virtually any clinical setting under radiation oncology supervision, without the limitations of radionuclides.
Dose rates from the Axxent eBx System are set to an operating voltage of 50kV, which allows for minimal shielding, meaning the treating team can interact with the patient while delivering therapy.
The Axxent System has similar dose rates to HDR. However, the dose fall-off rate is lower, so the patient receives less dose to critical organs and healthy tissue.
Advantages
Delivers therapeutic dose directly to the cancerous site
No radioisotope regulatory, handling and safety issues
Lower shielding requirements brings brachytherapy treatment "out of the bunker"
Because of the unique characteristics of the Axxent eBx System, medical personnel may remain in the room
Unlike radioactive isotopes, less radiation is delivered to surrounding healthy organs and tissue*
Unique design allows for multiple applications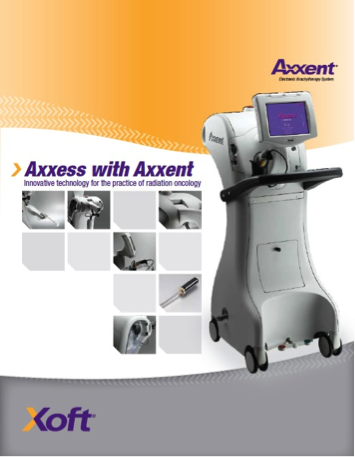 Download company brochure(PDF)
*Dickler, et al. "A Dosimetric comparison of MammoSite high dose rate brachytherapy and Xoft Axxent electronic brachytherapy," Brachytherapy (6) 2007, 164-168. "A Dosimetric comparison of Xoft Axxent Electronic Brachytherapy and Ir-192 HDR brachytherapy in the treatment of endometrial cancer," Brachytherapy (7) 2008, 154